The Next Generation – Jr. Board Member Interview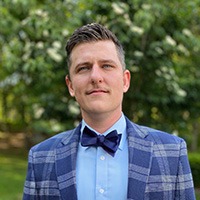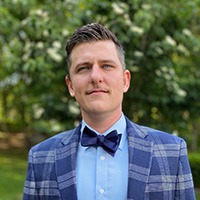 In this month's WISE Jr. Board Member interview, we are featuring WISE's very first male Jr. Board member, Charlie New. Born and raised in a small town in Oklahoma, Charlie has delved full force into his successful career as a true advocate for diversity, while also enjoying time doing what he loves outside of work: spending time at his local restaurants, sharing his passion of cheese (yes, he's even a certified cheese professional!), spending time with his fiancé, and power lifting.
Charlie plays such an important role in the WISE and the store brands industry as he is the voice that screams the importance of Diversity, Equity and Inclusion. Growing up in a community scarce in diversity, the power of inclusivity and of amplifying the voices of all is what led Charlie to Whole Foods Market (WFM) where he's been working for ten years. He surrounds himself with individuals who are unapologetically themselves, even when there is a big risk involved with being their true selves; and this is exactly what Charlie shines onto others.
 WISE: Charlie, please give us some background on your experience prior to working at Whole Foods.
CHARLIE: If you can believe this, I have worked at Whole Foods for over ten years and started shortly after college. That said, one of the wonderful parts of my experience with this company is that I have had the opportunity to grow not just professionally, but personally here over the last decade.
WISE:  How did you find your career opportunity with Whole Foods?
CHARLIE:  I was an eager post-college grad and hungry to start my career. At the time I was finishing school with a film degree and certain I would become a film editor. I found the position at WFM through a job fair and I started simply so I could pay my rent while looking for long-term prospects. I quickly learned that WFM's mission statement and core values aligned with mine.
WISE: What has been your most challenging part of your time working at Whole Foods?
CHARLIE: As a company, I have watched WFM experience lots of change, from growing from 300 stores to almost twice that, to being acquired by Amazon, to most recently moving over to a fully centralized model. Change is always a challenge because it means disruption in the flow of how we work. However, the silver lining is all this change has been for the betterment of the company.
WISE: What has been the most rewarding part of your time working at Whole Foods?
CHARLIE: Without a doubt, it is the people. I have had the opportunity to work with inspiring people who have changed the course of my life. Often, those I work with feel like family. I've met lifelong mentors - people who have championed me to where I am today. I've also acquired many close friends along the way. I even met my fiancé in the very early days of working at WFM.
WISE: What has your experience been like while working during COVID? How did that mold your experience?
CHARLIE:  Working during COVID has allowed me to learn how to face unpredictable and new types of challenges. I might say I am an expert at putting out fires these days. It has also taught me the value of making connections with my peers, even when it is through a zoom lens.
WISE: What got you interested in joining the WISE organization?
CHARLIE: I believe in the power of diversity in the workforce at large, in corporate structures, and the Store Brands industry. It is our most important cause to continue pushing forward. WISE is one of the most important facets of the industry working towards that goal, and I wanted a chance to be a part of it.
WISE:  How long have you been a part of WISE? Tell us all about what you've done within the organization.
CHARLIE: Technically speaking I have been involved with WISE through WFM for the past few years. Since then, I have had the chance to see some incredible speakers pre-COVID days at PLMA, as well as tune in to the panels on zoom. By far though, the most impactful experience I have had is being a part of the Junior Board.
WISE:  What were your thoughts about the organization as you learned about WISE and its mission?
CHARLIE: WISE plays a crucial role in creating a more inclusive culture in the Store Brands industry. It has helped propel the industry forward by leading the movement for diversity and inclusion with the knowledge that it drives profitable growth. This is not done solely for the sake of progress, but with the understanding that it is needed. The Store Brands industry at present is not representative of the diverse customers that shop it. WISE is actively working to change that fact.
WISE: What do you think could be the future of WISE?
CHARLIE: The way that the organization has leaned into DEI initiatives is the first step into its future. This is so needed and rarely something that is being provided elsewhere. The DEI Ambassadors Program is the start of expanding the reach and impact of WISE in a big way, especially in these virtual times. 
WISE:  How would you sum up your experience in this industry, and what advice would you give to those considering joining this industry?
CHARLIE: Stay curious and humble. You'll be surrounded by people with gobs of experience, vast amounts of knowledge, and a business vernacular that's been honed for several decades. If you let that intimidate you, you won't go far. Find people in the room you believe in, ask them lots of questions, and insist that they be your mentors. And, don't forget to return the favor to people just starting.